TVR CHASSIS RESTORATION & OUTRIGGER REPLACEMENT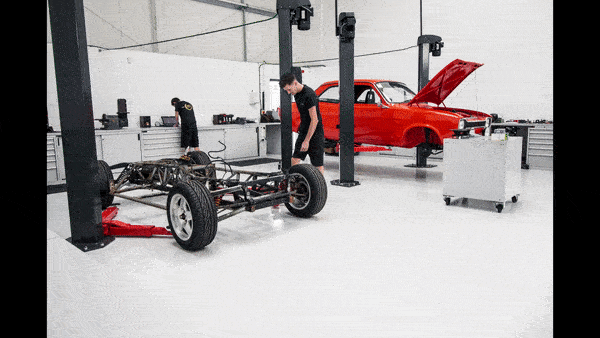 As we all know by now, TVR's tend to suffer from chassis corrosion due to the varying quality of the original paint process. Some well cared for examples can have a perfectly serviceable chassis with minor surface rust that only requires a strip down and re-powder coating. While others can suffer with heavy corrosion and hide the worst of it out of sight between the body and the outriggers.
​
Whatever condition your TVR is in, HPC Classics are proud to be able to offer a competitively priced restoration service to get your pride and joy back to factory fresh condition. A body off restoration does not need to cost a fortune and can be completed relatively quickly in our workshop, usually between 4-6 weeks depending on the level of service selected.
​
While the body is off and the drivetrain is removed it is often a perfect opportunity to perform some more in depth maintenance, we can offer custom built damper upgrades from our partner Raceshocks, engine rebuilds, battery relocation and brake upgrades to name a few. Please get in touch to discuss your requirements and we can give you a better idea on pricing or book your car in for a free condition assessment on our ramp.
​
Please see the following for our fixed price restoration offers:-
​
Body off with existing outriggers £8,495+VAT

Body off with new outriggers £9,995+VAT

Surcharge for TVR Cerbera, Tuscan, T350 & Sagaris (this is due to the extra parts cost involved) £950+VAT
​
Our service and pricing includes:
​
Labour

Chassis and all suspension components sand blasted, zinc primed and powder coated your choice of any RAL colour

Reconditioned wishbones with new standard bushes, nuts, bolts and ball joints, polybush upgrade available

Reconditioned uprights with new wheel bearings

Fuel pump, filter, all rubber and hard lines

Brake and clutch lines, stainless steel braided upgrade available

Engine, gearbox and differential mounts
​
Get in touch with us today to discuss booking in your TVR.